SculpSure
SculpSure is Health Canada and FDA-cleared, non-invasive and non-surgical laser treatment used to treat stubborn fat.* This innovative procedure can help address fat cells that are harder to lose with just diet and exercise.* By using SculpSure, Dr. Jeffery can treat problem areas in the most effective and efficient manner.* Dr. Jeffery is currently the only physician within the Medicine Hat area offering SculpSure.
What kind of fat does it target?
SculpSure is an excellent choice for targeting subcutaneous fat cells, which sit under the skin.* While technically not very harmful to your health, these pockets of fat are tough to get rid of and can be esthetically displeasing.
How does it work?
SculpSure uses laser energy to target and heat up the subcutaneous fat cells beneath the skin.* The heat from the energy of the laser damages the structure within those cells, causing them to break apart and become absorbed into the body.* Then, they are eventually eliminated by the lymphatic system.* Cells that have been successfully removed will not regenerate.* The procedure itself is around half an hour, and the greatest benefits are that it boasts little or no downtime or discomfort.*
* Individual results may vary; not a guarantee.
What are the most common areas that it treats?
SculpSure is most commonly used to treat stubborn fat in the following areas:
back *
belly *
thighs *
under the chin *
stomach *
love handles *
How long does it take to see results from SculpSure?
Every patient is different. Results can be seen in as little as 6 weeks, with optimal results seen 12 weeks after final treatment.* However, more than one treatment is recommended for the most effective outcome.* During your initial consultation, you can discuss your ideal treatment plan with your provider.
Who is a good candidate for this laser procedure?
SculpSure can be used by both men and women, on the aforementioned areas, who are struggling to get rid of subcutaneous fat cells. Ideal patients should be close to their goal weight for optimum results.* Unfortunately, SculpSure cannot treat visceral fat, which is the hardened fat that surrounds the organs within the abdominal cavity.
Men and women who have additional stubborn fat under the chin may find that SculpSure Submental treatment a viable option.* This laser treatment raises the temperature of fat cells while still keeping the surface of the skin cool, so the surrounding skin isn't damaged. In the weeks following SculpSure laser treatment, treated fat cells are eliminated through your body's natural processes. Laser double chin treatment is safe for all skin types, and is more inclusive with the possibility of treating patients with a higher BMI than other treatment options.
Before and After Results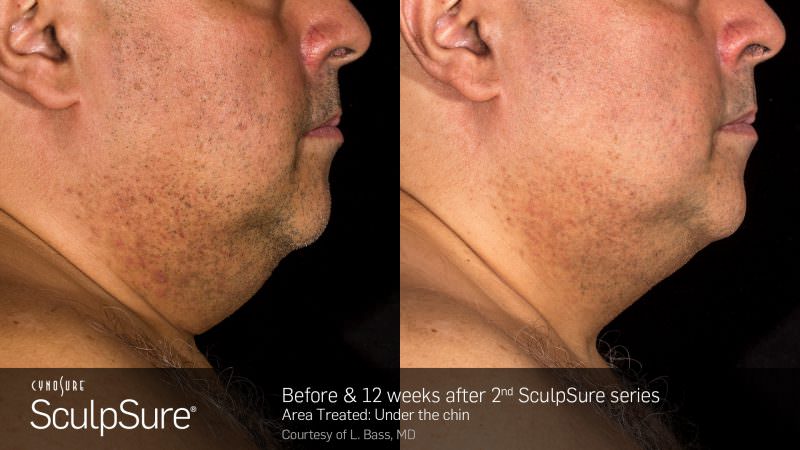 * Individual results may vary; not a guarantee.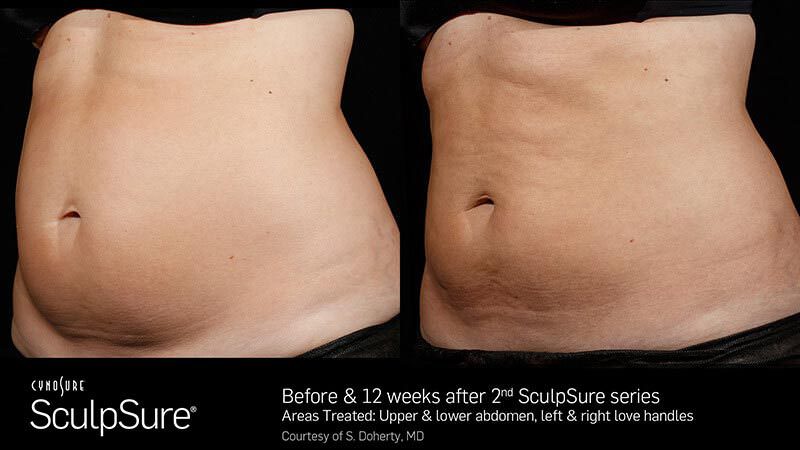 * Individual results may vary; not a guarantee.
Schedule An Appointment
If you would like to learn more about SculpSure or to see if you are a good candidate for this procedure, please contact our office, located in Medicine Hat, Alberta, at 403-525–6159 to schedule an appointment with Dr. Jeffery and his staff.